Ladies & Gentlemen, We have a favour to ask you...
This year marks our 25th Wedding Anniversary. Life during lockdown has been difficult for everyone not least for families effected by Cystic Fibrosis.
Our great nephew Finley has been shielding with his family and back in May, spent a worrying couple of weeks in hospital. Only his Mum was allowed to stay with him and Dad could only see him through the window. How hard! I am pleased to say Finley bounced back and is doing well at home.
At this time we decided that we wanted to do something to help the CF Trust who do a lot to support families like Finley's. Here are some examples of what they can do:£150 could support an individual or family in urgent need with a grant for food and other basic daily essentials.
£200 could ensure someone with CF exercises regularly and stays healthy, helping them pay for home exercise equipment while shielding.£250 could protect the health of someone with CF who is shielding, providing them with essential white goods like a fridge or a washing machine.We should have been going on holiday for our anniversary but have instead set ourselves a huge challenge of running 25km between us on our anniversary.
During lockdown, we have been putting time in on our treadmill and despite it being tough for complete non-runners like us, it has been a huge reminder that for people with CF each day delivers the demands of doing physio and taking LOTS of medication.
For Finley and others like him there is no let up. So in order to help the CF Trust at a time when fundraising events have been cancelled we would like to ask you to consider making a donation to this most worthwhile of causes.
Thank you.
If you think you can help by donating what ever you can, please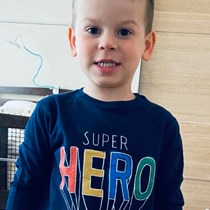 Keep Safe,
Keep Praying &
Keep Close to Jesus!
Prestatyn Church in Wales: Christ Church & the Church of the Holy Spirit.
Part of the Bryn a Môr Mission Area, within the Diocese of St Asaph.